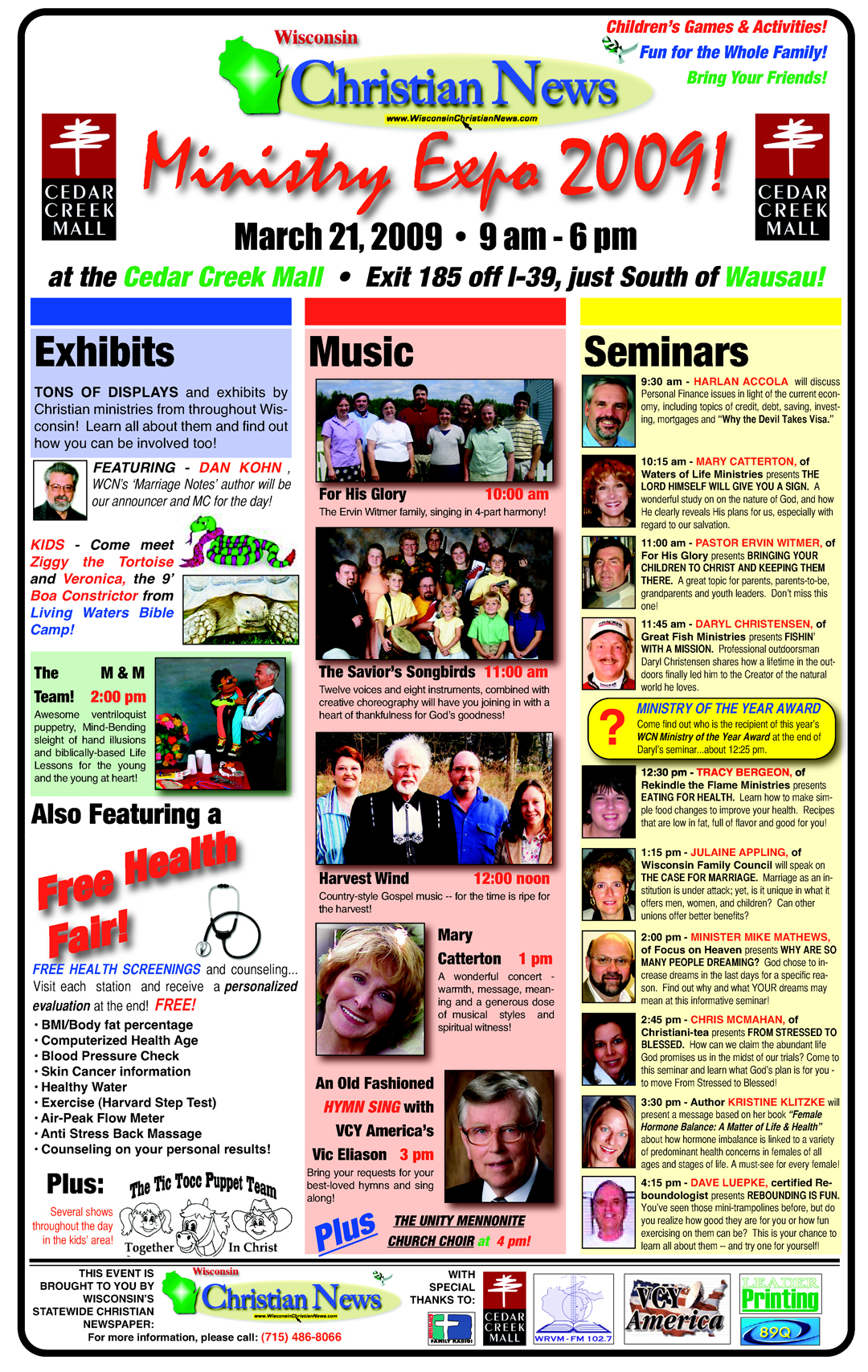 CLICK ON THE PICTURE!
Click on the picture...
Wisconsin Christian News Ministry Expo 2009, March 21, 2009 from 9 am - 6 pm at the Cedar Creek Mall, Exit 185, just south of Wausau.
Children's Games and Activities!
Fun for the Whole Family!
Bring Your Friends!
FEATURING:
Exhibits
TONS OF DISPLAYS and exhibits by Christian ministries from throughout Wisconsin! Learn all about them and find out how you can be involved too!
Featuring Dan Kohn, WCN's Marriage Notes author will be our announcer and MC for the day!
KIDS - Come meet Ziggy the Tortoise and Veronica, the 9 Boa Constrictor from Living Waters Bible Camp!
The Tic Tocc Puppet Team to perform several shows throughout the day!
MUSIC to include:
For His Glory 10:00 am
The Ervin Witmer family, singing in 4-part harmony!
The Saviors Songbirds 11:00 am
Twelve voices and eight instruments, combined with creative choreography will have you joining in with a heart of thankfulness for Gods goodness!
Harvest Wind 12:00 noon
Country-style Gospel music -- for the time is ripe for the harvest!
Mary Catterton 1 pm
A wonderful concert - warmth, message, meaning and a generous dose of musical styles and spiritual witness!
The M & M Team! 2:00 pm
Awesome ventriloquist puppetry, Mind-Bending sleight of hand illusions and biblically-based Life Lessons for the young and the ...