WEST BEND, Wis.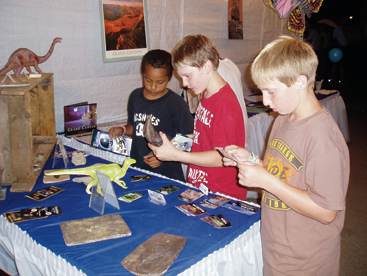 Why Do 1,000 Scientists (and Growing) Believe Darwin Was Wrong? That is the banner on the Whats the Evidence? fair booth which has been at Waukesha and Washington Counties this summer and is scheduled to be at Dodge and Sheboygan County fairs.
A lot of folks come to the booth and admit to having questions about the Creation and Evolution controversy. They tell me they grew up confused, being told in church that God created them and going to school to be told that they evolved from apes, says Mary Weigand of West Bend, Wis., founder of the booth.
The Biblical account of Creation in Genesis is in direct conflict with the claims of evolution. Only one of us is right. Im out there teaching and showing people evidence that the Biblical account is true and we see proof all over the world to help us see that, continues Weigand.
The booth uses dinosaurs and fossils to bring Biblical truth into the science arena. The evolutionists have been deceiving the public about dinosaurs, using them to indoctrinate us with their millions of years ideology. Ive heard from dozens and dozens of kids that dinosaurs went extinct 65 million years ago when an asteroid hit the earth, says Weigand. In my booth they will see evidence showing man and dinosaurs living together, and they will learn that the Bible even mentions dinosaurs several times - they just were not called dinosaurs before 1850.
Fossils are another area the evolutionists have used to indoctrinate ...