MARSHFIELD, Wis.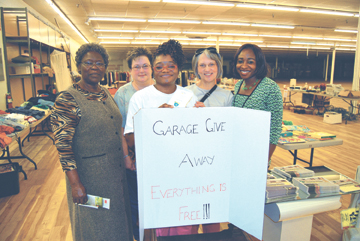 Marshfields northside shopping mall, The Shoppes at Woodridge held their first ever flea market event the weekend of September 11, and shoppers were pleasantly surprised by the generosity shown at one booth in particular.
Staffed by members and volunteers from Marshfields Dominion House of Prayer, visitors could browse and select from a wide array of new and used clothing, housewares, home decor, toys and childrens items, electronics and much more -- and everything was given away free, to show the love of Jesus to the local community.
The idea for the giveaway was to be a blessing to the Marshfield community, reaching out to those in need, and sharing the love of Jesus with them. Those who freely received merchandise, were also invited to freely receive prayer - for any needs they may have shared - or simply prayers of blessing.
Everyone was so impressed with the spirit of giving, said organizer Buki Fagbemi, who operates the House of Prayer along with several other local volunteers. They could not believe we were giving it all away for free, and asking nothing in return. In fact, many people blessed us, and brought things in to give to us, to turn around and give to others! So God multiplied our efforts, which will allow us to do this again in the future!
Approximately 300 pieces of Christian literature were distributed during prayer times.
While this was the first official outreach event for the House of Prayer, the Ce ...