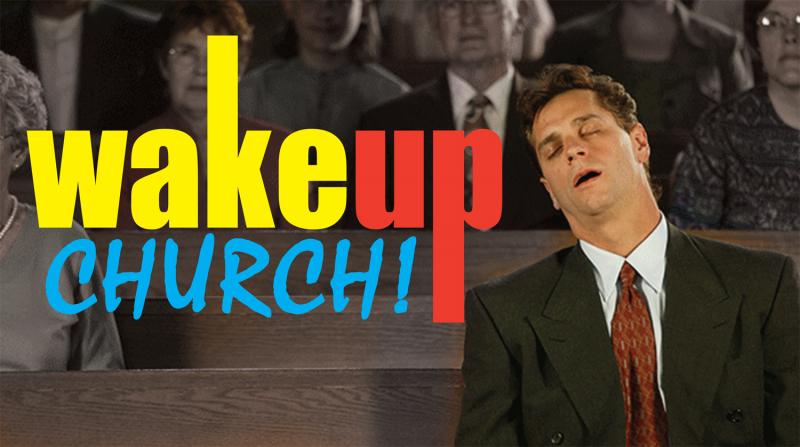 Complimentary Story
Mar 14, 2015: Wausau/Rothschild, Wis.
WCN MINISTRY EXPO AND CONFERENCE
Our theme this year: WAKE UP CHURCH!
SEMINARS, CONCERT, MINISTRY EXHIBITS, KIDS ACTIVITIES, BIBLE QUIZZING,
PRAYER BOOTH, BRAT FRY, MEET WCN WRITERS, FREE GIFTS!
"I know your reputation as a live and active church, but you are dead. Now wake up! Strengthen what little remains -- for even what is left is at the point of death..." -Revelation 3
Racial Division, 'Same Sex Marriage,' Common Core, Abortion on Demand, Legalized Recreational Drugs, Open Borders, 'Transgender' Restrooms, Islamic Terrorism, Government Out of Control, The Healthcare Crisis, Unemployment, Welfare, Debt and Poverty, Christian Persecution...
WE ARE LOSING OUR FREEDOMS AND OUR CHRISTIAN HERITAGE AS OUR COUNTRY IS BEING 'FUNDAMENTALLY CHANGED.'
BUT WHERE ARE THE CHRISTIANS?
9:00 AM: SEMINAR: Mike LeMay
'The Church is Giving In To the Humanist Culture Instead of Standing Against It'
Mike is General Manager of Q90 FM Christian Radio in Green Bay and host of Stand Up For the Truth, a weekday show that discusses issues important to the Christian faith.
10:00 AM: SEMINAR: Terry Fischer 'Understanding (Or Discerning) the Times'
Terry is the Pastor at The Church in Wisconsin, located in West Allis. He brings an important message about living in these 'last days.' Challenging Christians to be ready for the Lord's return, but not overcome by the rise of evil and love growing cold.
11:00 AM: SEMINAR: Jim Schneider
'Learning to Discern the 'Spin' in Mainstream Media'
Jim is co-host of VCY America's nationwide call-in program, 'Crosstalk.' He will discuss the importance of staying informed with accurate news sources, and learning to discern 'spin' and indoctrination of the mainstream media's liberal bias.
12:00 Noon: SEMINAR: Matt Trewhella 'Ending the Status Quo'
Matt is pastor of Mercy Seat Christian Church in Milwaukee and also leads Missionaries to the Preborn. He is author of the book "The Doctrine of the Lesser Magistrates," and will present a proven plan to end the status quo and see the perversion and bloodshed our legislators and federal courts have sanctioned turned back once and for all.
1:00 PM: SEMINAR: Coach Dave Daubenmine, 'You Serve the God You See'
Coach Dave is a former high school football coach who was sued by the ACLU for alledgedly mixing prayer with his coaching. Today he heads up 'Pass The Salt Ministries' based in Hebron, OH and produces weekly video commentaries for NewsWithViews.tv. His message is that Jesus is no longer a babe wrapped in swaddling clothes...nor is He a crucified Savior hanging on a cross. He is a Risen Savior who is returning to 'judge and make war.' Most have no idea who Jesus really is. YOU SERVE THE GOD YOU SEE!
2:00 PM: SEMINAR: Megham Hellrood, 'What Can One Person Do?"
Meghan is a local high school student. Learn how she started a 'Teens for Life' group in her school, despite opposition from school officials -- and how her group has now gone city-wide!
2:30 PM: SEMINAR: Julaine Appling So You Want to Be a World Changer?
We believe everyone should do something to make a real difference in their family, church, community, state and nation. Learn practical ideas to identify the "something" and take steps to put "feet" to the idea. Are you ready to be a world changer?
3:00 PM: SEMINAR: Terry Fischer 'But By My Spirit'
Terry's concluding message will be to challenge the church to depend on the ministry and power of the Holy Spirit. He will remind us that it is "not by might, nor by power, but by My Spirit, says the Lord of Hosts." (Zech. 4:6).
4:00 PM: CONCERT: MPK Christian Celtic Band
Round out the day with a concert by the MPK Christian Celtic Band -- offering a wonderful blend of Scottish Culture. You'll savour a musical experience not soon forgotten! Toe-tapping traditional Celtic fiddle tunes, highland dancing, their own original songs, and a few history lessons await your senses. You will not want to miss out on an afternoon with MPK Christian Celtic Band.
SATURDAY, MARCH 14, 9AM - 5 PM
AT CEDAR CREEK MALL, EXIT 185, JUST SOUTH OF WAUSAU!
SPONSORED BY WISCONSIN CHRISTIAN NEWS. CALL FOR MORE INFORMATION OR TO RESERVE AN EXHIBIT BOOTH: (715) 486-8066. Or Email: