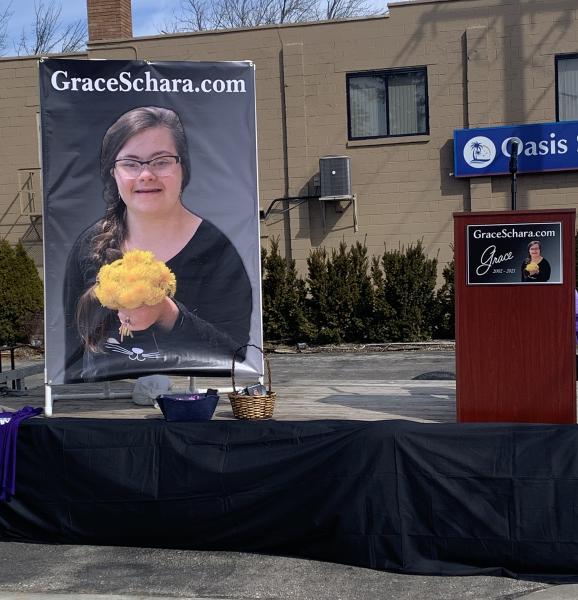 Complimentary Story
April 2023
A press conference was held on Thursday, March 30, to announce the Schara family has begun a lawsuit for the death of Grace Schara, their daughter, against 5 doctors: Gavin Shokar, M.D., David Beck, M.D., Daniel Leonard, M.D., Karl Baum, M.D. and Ramana Marada, M.D., as well as 2 nurses: Hollee McInnis, R.N. and Alison Barkholtz, R.N., along with St. Elizabeth Hospital and Ascension Health in Appleton, Wisconsin. The Request for Mediation that was filed on March 30, 2023 by their Wisconsin attorney Joseph Voiland included the condition or disease for which the health care provider was treating Grace when the negligence occurred and the dates of treatment was for low oxygen saturation, viral infection, pneumonia and conditions secondary or created thereafter under the hospital's care from October 6-13, 2021, including acute hypoxic respiratory failure. Additionally, Gavin Shokar, M.D., wrongfully placed a "Do Not Resuscitate" (DNR) order on Grace and by which their negligence caused Grace's death.
At the press conference Scott began with a prayer asking for the doctors and nurses who helped end Grace's life to repent. Attorney Joe Voiland truthfully stated "the Schara family are true fighters for patient rights and informed consent." He went on to state that "informed consent is two words...and if more doctors upheld their duty to informed consent from their patients, then more people would make it home alive. The American Medical Association rules provide that a physician is required not only to inform the patient but to involve the patient in his or her own care, planning and treatment to respect the patient's wishes, to respect the patient's desires to either have treatment, to accept treatment, or to refuse treatment and in Grace's case the doctor treating Grace at St. Elizabeth did not receive consent from the family to do what they did. There was a 'Do Not Resuscitate' order placed on Grace without the family's consent and that's why she is no longer here with us and that's why we're going to be pursuing legal action starting today and we're making a filing in Madison regarding the case to begin the case."
A lady by the name of Kelly Moore then spoke stating her husband died in a hospital after he was denied the patient right to informed consent. Her story is one of many stories of this exact same thing. She represented the hundreds of thousands who have died because of doctors ignoring their duty of practicing informed consent.
Grace's mom, Cindy, spoke about the long, hard year and a half since losing their beautiful Grace Emily. She spoke of Grace's way of lighting up a room and bringing a spark to every day. Grace had a beautiful smile, a kind word of encouragement, a special note, an underarm tickle, a hug, a joke, a scare, a "noogie," but whatever it was, it was real, coming from Grace. She spoke of "how it breaks my heart," especially Dr. Gavin Shokar and Hollee McInnis, a 14-year experienced ICU Nurse at St. Elizabeth Hospital, never took the chance to know Grace and if they would have, their lives would have been changed, but for the better. "But, they had a choice," she said, "and the choice they made to do what they did to her was pure evil." Cindy spoke of the love Grace had for her Lord and Savior, Jesus Christ, and how she loved Him and she knew how much He loved her. Cindy just recently found a beautiful note at home stating "Jesus loves me, Grace Emily, so, so, so, so, so much." 1John 4:8, "God is love."
Jess, Grace's big sister, also spoke. She spoke through tear-filled eyes and heartfelt sobs of how her precious sister's life was stolen by the hospital medical staff, by the very people we were taught to trust. Grace had just celebrated her 19th birthday. Jess was there with Grace during her last day on this earth. She was there when a doctor chose to put an illegal Do Not Resuscitate order on her sister without family knowledge or consent. She was there when they chose to overdose her on sedatives and narcotics illegally, once again without family knowledge or consent. Jess added, "Grace was given a drug combination that none of us would have survived." She went on to state she was unaware of these things and she would have never thought they were there to kill her. "I was there when we screamed and begged the doctors and nurses to save her. I was there when her soul left her body and she was ushered into Heaven on October 13, 2021." Her pleas are for justice, not only for Grace but also for the hundreds of thousands of lives stolen by the medical tyranny. "These crimes against humanity must stop, they need to be held accountable for their actions." She spoke of the "plan God has through all the hurt and pain and He has worked it all out already." "God's got this," as her sister whom she loves and misses so much would say to her family. Grace taught her sister, Jess, to have faith as that's all a person can do! Genesis 50:20, "You intended to harm me, but God intended it for good" to accomplish what is now being done, the saving of many lives.
Scott then spoke of his "little buddy" and pointed out a picture of Grace with a bouquet of dandelions in her hand. He recalled being a "lawn nazi" and having his lawn look "perfect" without any dandelions until Grace brought a "bouquet" and from that point out thinking how great the dandelions are and how she taught him about them and a lot more. He also shared Grace's sense of humor and shared with the crowd of approximately 150 people, two of her favorite jokes, along with her questions about a grocery store jingle.
Scott then went on to explain the events leading up to and including Grace's death. She had "low oxygen saturation," so the doctors led the family to believe. Because of this, the Schara family trusted the "white coats" and Grace was taken to Urgent Care on October 6, 2021. They recommended, because of a blood chemistry parameter, they should take Grace to St. Elizabeth Hospital Emergency Room via ambulance. Scott rode in the ambulance with Grace. She was fine, giving her dad the "thumbs up" and joking around. They got into the emergency room and the emergency room physician, after a CT Scan which was negative, suggested admitting Grace into the hospital. Scott then stated he would be staying with her and they immediately told him he couldn't. He then told them he would be taking Grace home. After two hours of deliberation, they decided to let Scott stay as long as he didn't leave the room.
Scott stayed from October 6 until 8 am on October 10. At that time, he was taken out of the room by an armed guard. He was taken out because he was challenging things that he saw were wrong. The family had to hire an attorney to be able to get their daughter, Jessica, in the room to replace Scott as an advocate as Cindy, Grace's mom, was ill and unable to be there. After 44 hours of nobody in the room with Grace, Jessica was finally able to be in the room with Grace and she was with her for her last two days on this earth. Grace's second to last day, October 12, was such a good day that the evening of the 12th she sat up in bed and Jessica called her two boys and Grace hollered to them through a bi-pap "hi boys!" Jessica monitored her oxygen level that entire time and it was at 98% and 99%.
The next morning, Scott and Cindy received a call from the doctor and he wanted their decision on whether they would give the hospital preauthorization to put Grace on a ventilator. This was the fifth request for the preauthorization which means Scott and Cindy would pre-approve that ventilator and they framed it "just in case." And "these types of things tend to happen in the middle of the night when we can't get a hold of the family." The Scharas already knew they weren't going to do a ventilator as it has a 90% kill rate. So when they said "no," when the doctor called the morning of the 13th, the doctor immediately switched and said "Grace had such a good day yesterday, we should work on nutrition" and he convinced Scott and Cindy that a feeding tube was the best nutrition even though Grace had a central line and couldn't be fed TBN food. Jessica was in the room at this time with Grace and she said to the nurse that she was going to take a shower. There was a shower in the room. The nurse insisted that Jess would not be able to take a shower in the room even though Scott had previously been allowed to use that same shower. Jess was told if she needed to take a shower she needed to go home stating she didn't care what had been previously allowed by them for Scott. Jess talked with Grace and she was ok with Jess going home to take that shower. When Jess came back inside of an hour, she overheard two doctors and the nurse in the hallway saying, "the family's not going to like this." Jess asked what they weren't going to like and the nurse said "we had to restrain Grace while you were gone." Jess asked what the reason was for that and she was told "Grace wanted to get out of bed and go to the bathroom" and instead of helping her out of the bed to go to the bathroom, they restrained her.
In the call Scott and Cindy had with the doctor, he interestingly stated "we're going to get Grace out of bed today, in a chair, she's doing that well." But yet they strapped her down to the bed instead of helping her out. They then used that as an excuse to increase her dose of sedation and that involved Precedex to a near lethal dose, 14 times the dose that they started her on four and a half days earlier, they were unaware of. The package insert for Precedex says specifically to NOT use it for more than 24 hours because if you do, it causes acute respiratory failure. Grace's death certificate's first cause of death is truthful, as it is acute respiratory failure, which was inflicted by the hospital's decision.
At 11:25 am, after having Grace on this near lethal dose of Precedex, they gave her a dose of Lorazepam; at 5:46 pm, they gave her another dose of Lorazepam and at 5:45 pm another dose of Lorazepam and at 6:15 pm they gave her Morphine as an IV push, so in 29 minutes she had Precedex, Lorazepam and Morphine in her system. Those drugs are given to hospice patients during their last 1/2 hour of their life. No one could survive that medication combination and that's the true second cause of Grace's death even though her death certificate says "COVID 19 Pneumonia." The package insert for Morphine says if you combine those drugs, they can cause death and it's a risky combination; those drugs are contraindicated so the patient is to be monitored and they are to keep the reversal drug at bedside.
After they gave Grace the drug Morphine at 6:15 pm, no doctor or nurse stepped foot in the room in spite of Jessica's pleas for them to help stating, "my sister is getting cold." The nurse said, "just cover her with a blanket, that's normal." Jessica called Scott and Cindy panicking at 7:20 pm. She told her mom and dad Grace's numbers were dropping like crazy and they told her to get the nurses in. Jessica told her mom and dad they wouldn't come in. Jessica estimated 30 nurses in the hallway at this time as it was shift change. Scott and Cindy started screaming through the FaceTime call "SAVE OUR DAUGHTER!" and they hollered back "she's DNR, Do Not Resuscitate" and they hollered back "she's NOT DNR, SAVE OUR DAUGHTER!" They refused to come in the room and Scott, Cindy and Jessica watched Grace die, 7 minutes later on a FaceTime call at 7:27 pm on October 13, 2021.
They found out after reviewing the records that the doctor put the DNR order on Grace simultaneous with hanging up the phone with Scott and Cindy that morning. When Scott and Cindy talked with Jessica later on that evening, she told them an armed guard had been posted outside Grace's room. When their pastor was walking Cindy out of the hospital in a wheelchair with one of the nurses who had a conscience and had Grace's belongings on a cart, said "Mrs. Schara, myself and several of the nurses don't think Grace should have died today." That statement started a whole series of investigations, forensics work, doors opening and this lawsuit. To date no one has been held accountable for their actions toward Grace. They overrode all the decisions for the life saving matters for Grace and instead decided to end her life prematurely with a DNR order. No doctor has the right to end someone's life arbitrarily because he wants to. Doctors are supposed to save lives, not end them. Grace loved life and would be honored to know that shining a light on what happened to her would help others live.
The hospital benefited from the billing of the Medicaid that Grace was under. Hospitals receive a bonus for the COVID diagnosis, they receive a bonus for putting "COVID 19" on the death certificate, and when Grace was put on Precedex, they classified her room as "ICU" which changed the amount of money the hospital then received.
A nurse by the name of Marti Lembcke from the Fox Valley area in Wisconsin, whom this reporter knows personally, said that Scott was lying about the DNR order and there was no way that was put on Grace. After a DNR order was also put on her dad without the family's consent and she had medical power of attorney and she wasn't informed, she spoke with this reporter and agreed to share her story with Scott. However, she refuses to speak out against this with Scott and Cindy and help save the lives of other people.
To stay up to date with the legal case, please go to
GraceSchara.com
.