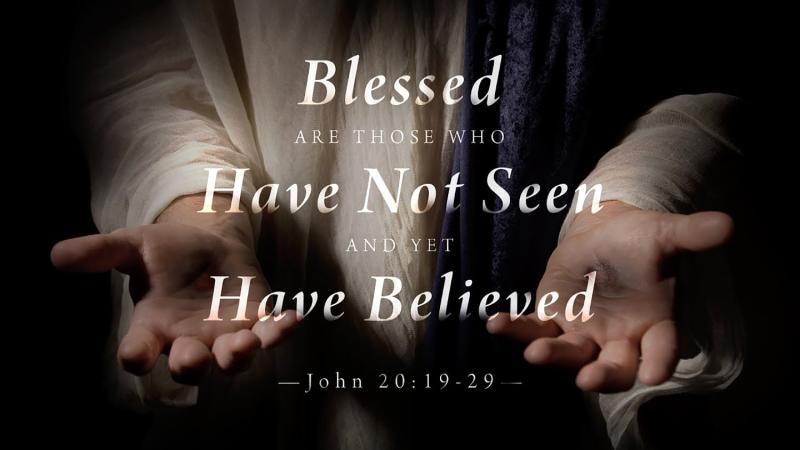 Complimentary Story
May 2023
It has been said: "What men are wont to see they believe; and what they are not wont to see they do not believe." Those who founded and colonized America were men who were wont to see and believed. As men progressed, or I should say "digressed," they became more self-possessed and arrogant and their wont faded. Then the dynamics of the UNSEEN GOD began to disappear from men's lives. Christian symbols and knowledge was expunged as if to block out the VISION of God entirely. A paradox exists in this wont ideology, in that, men are wont to SEE and believe all other unseen forces; exception comes only when it relates to God. Knowledge and common sense seems to delude them only at this point!
A survey was conducted a few months ago, and it was reported that over fifty percent of today's youth do not believe in God because they cannot SEE Him.
Let us consider a few unseen forces at work, all about us, that men have no problem accepting, and inquire as to why they differentiate only when the unseen pertains to God?
All our homes have carbon monoxide testers that inform us of an unseen force that is poisonous, colorless, and odorless. The detector validates when this dangerous unseen gas is present, and only a fool would not acknowledge this invisible force!
The next unseen force is gravity. We cannot see it, only the result of it being present. Disobedience to this unseen force would be foolish.
Then there is an unseen force called electricity. We cannot SEE it's POWER or current flowing through the wires. We can only SEE the results when it is connected to some object. If we were to take an extension cord, bare the wires on one end, and plug the other end into a power outlet there would be no observable current. However, being unseen would not remove the force. Therefore, we cannot justify rejecting the dynamic unseen force of God when the same axiom applies and exists.
Jesus says: "All POWER is given unto Me in heaven and in earth." Matthew 28:18. UNSEEN POWER, but when connected to a given source the results are SEEN. "Whom having NOT SEEN, ye love; in Whom, though now ye SEE HIM NOT, yet believing, ye Rejoice with Joy unspeakable and Full of Glory." 1 Peter 1:8.
There are many unseen forces in the world, in which, God is just one of them, and it is not wise to reject or despise Him or any of these forces. Like electricity, when we plug into the unseen force of GOD He activates it, and we experience the results.
The final unseen force we will investigate is LIFE. We cannot SEE life, only the results of having it in our bodies. Obituaries are worded: "On such and such a date, So and So passed on, or away." We do not SEE LIFE when it passes away, but it leaves. When life exists within a body, a doctor can replace vital organs but he cannot replace life, for the unseen force called LIFE is not in the realm of man to bestow. LIFE is an unseen force that leaves the body and passes into eternity. "For what is your life? It is even a vapor, that appeareth for a little time, and then passes away." James 4:14.
All unseen forces have a power and set principles. The choice is ours in using, abusing, or being obedient to them. Why not the unseen force of God?
"While we LOOK not at the things which are SEEN, but at the things which are NOT SEEN: for the things which are SEEN are temporal; but the things which are NOT SEEN are eternal." 2 Corinthians 4:18.
"Now faith is the SUBSTANCE of things hoped for, the EVIDENCE of things NOT SEEN." Hebrews 11:1. Faith reveals the EVIDENCE.
We have instruction books on just about everything, and most of us know about the unseen forces of nature that we just covered. However, it seems that we know so little about the dynamics of the unseen forces of GOD. The mystery, or unknown is due to the fact that we do not: "Study to shew thyself approved unto God, a workman that needeth not to be ashamed, rightly dividing the WORD OF TRUTH." 2 Timothy 2:15. Ignoring what is written in God's Word, and then emphatically asserting that there is no God is a very unwise denunciation. This is what the Bible says about those who hold that base opinion: "The fool hath said in his heart, there is no God." Psalm 14:1.
God's Word is the only medium that can penetrate the human senses, "It is quick, and powerful, and sharper than any two edged sword, piercing even to the dividing asunder of soul and spirit, and of the joints and morrow, and is a discerner of the thoughts and intents of the heart." Hebrews 4:12.
God's Word informs us how to have life, and have it more abundantly, but it also warns us of the danger of rejecting Him and the path He wants to guide us in. "Trust in the Lord with all thine heart; and lean not unto thine own understanding. In all thy ways acknowledge Him, and He shall direct thy paths." Proverbs 3:5-6. The revelation by and of God is necessary to discover the missing link for receiving and using His unseen force. It reveals the reason of man, the nature of man, and the destiny of man. It reveals the Source of life, and when life which is unseen passes from its body, it passes into eternity fulfilling its purpose upon earth.
While we are here upon earth Jesus says, "I am with you always." Matthew 28:19. This means He remains in an unseen force. He is present for our benefit. "I can do all things through Christ Who strengtheneth me," and "He shall supply all my needs according to His riches in glory." Philippians 4:13, 19. He is available for everyone: He stands at the door of our heart and knocks, and when we let Him in, He makes us new creatures. Revelation 3:20; 2 Corinthians 5:17. So, we understand the results of His unseen force by what takes place.
Jesus says, "I am come so that you might have life, and that more abundantly." Only when we tap into His unseen force do or can we experience the active reality of it. When we yield to His UNSEEN Spiritual Force, activation takes place, validating what we receive. Both the Bible and History validate the results of this dynamic unseen force. "Thomas said unto them, except I shall SEE in His hands the prints of the nails, and put my finger into the print of the nails, and thrust my hand into His side, I will not believe... Jesus saith unto him, 'Thomas, because thou HAST SEEN ME, thou hast believed: Blessed are they that HAVE NOT SEEN, and yet have believed.'" John 20:25,29. And, "Now faith is the substance of things hoped for, the evidence of things NOT SEEN."
Through faith, we understand that the worlds were framed by the Word of God, so that things which are seen were not made of things which do appear. Hebrews 11:1, 3. The unseen unveils and avails itself by the results of it. "But as many as received Him, Jesus, to them gave He POWER to become the children of God, even to them that believe on His Name." John 1:12. The results are not concealed to those who experience the dynamics of the unseen force which produces the Results.
From every force is derived a certain order of effect which it produces. The first cause of the order of the universe is God Who is the unseen force over all unseen forces. Our bodies are mortal, and therefore, it is wise to surrender to He Who is the first cause in the order of the universe. He knows our thoughts, and is the only One Who can give us an expected end. Jeremiah 29:11.
The unseen forces of Jesus does not become a personal reality until such a person believes and receives Him, and at that moment is activated by Him. Whenever experience takes place, assurance of the evidence is in the results. Job had this kind of indwelling verification: "For I know that my Redeemer liveth, and that He shall stand at the latter day upon the earth: and though my skin worms destroy this body, yet in my flesh shall I SEE God: Whom I shall see for myself, and mine eyes shall behold, and not another... Job 19:25-27. The unseen will be seen.
"Behold, He cometh with clouds; and every eye shall see Him, and they also which pierced Him: And all kindreds of the earth shall wail because of Him." Revelation 1:7, Mark 13:26.
Jesus was seen before He became unseen, and He will be seen again. "When Jesus had spoken these things, while they beheld, He was taken up; and a cloud received Him out of their sight...Ye men of Galilee, why stand ye gazing up into heaven? This same Jesus which is taken up from you into heaven, shall so come in like manner as ye have seen Him go into heaven." Acts 1:9,11.
The world could not exist even for the twinkling of an eye if God were to remove His unseen force from guiding it. If we are to be true to our own conscience we must endeavor to seek out the dynamics of His unseen force, and call unto God to experience it. The Lord says: "Call unto Me, and I will answer thee, and show thee great and mighty things, which thou knoweth not." Jeremiah 33:3. When you do that you will be able to express: "Thy Words were found, and I did eat them; and thy Word was unto me the Joy and rejoicing of mine heart: for I am called by Thy Name..." Jeremiah 15:16.
"God WILL keep everyone who trusteth in Him in perfect peace when they trust in Him." Isaiah 26:3. When we refocus upon God, He with His unseen force, performs what He says He will do. When we experience His unseen force, it becomes clear to us.
"For the invisible things of Him from the creation of the world are CLEARLY SEEN, being understood by the things that are made, even His eternal power and Godhead." Romans 1:20. The personal significance of this is that it is only in the EYE of the beholder by experience, and that is due to the fact that we have received this unseen force. "I am crucified with Christ: nevertheless I live; yet not I, but CHRIST LIVETH IN ME: and the life which I now live in the flesh I live by the faith of the Son of God, Who loved me, and gave Himself for me." Galatians 2:20.
A religion that has no visible manifestation of the unseen and eternal has no spiritual reality or at oneness with the Living God. Beyond the veil of cognizance of the senses of sight there is the reality in the existence of God's Infinite unseen presence that succours the souls of all those who call upon Him in time of need. Hebrews 4:16; Romans 8:37. Man's highest good is to find this unseen, living God, and to dwell in the secret place of the Most High. Psalm 91:1. There is the voice of God Himself made audible and articulate by the Words of Jesus Christ to every person who will draw nigh to Him. James 4:8.
Then, "The Spirit Itself beareth witness with our spirit, that we are the children of God." Romans 8:16. This unseen force called "The Spirit, will guide you into all Truth." John 16:13. Therefore, call upon God the Father, receive His Son, read His Word, and let His Spirit REVEAL His UNSEEN FORCE.
Send questions and comments to:
John E. Burt, Upper Room Ministry
6854 N Zett Rd • Loretta, WI 54896
Phone 715-266-4131