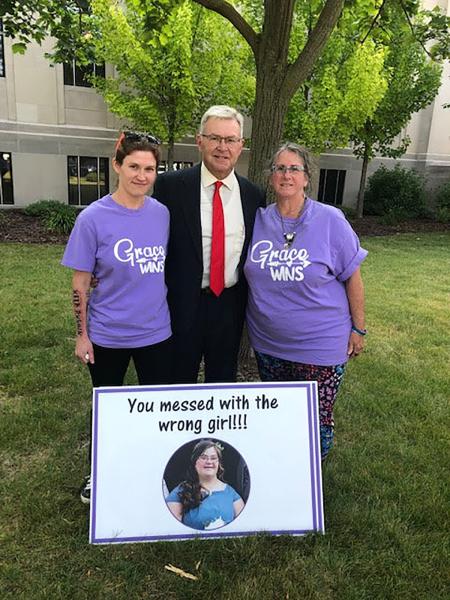 Complimentary Story
August 2023
The Hearing To Dismiss the lawsuit by Scott and Cindy Schara for the death of their daughter, Grace, was held on Friday, July 14, 2023 at the Outagamie County Courthouse in Appleton, Wisconsin. The lawsuit is against five doctors: Gavin Shokar, M.D., David Beck, M.D., Daniel Leonard, M.D., Karl Baum, M.D. and Ramana Marada, M.D., as well as two nurses: Hollee McInnis, R.N. and Alison Barkholtz, R.N. along with St. Elizabeth Hospital and Ascension Health.
The courtroom was packed with approximately 100 people supporting the Schara family, many of those standing throughout the hearing. The attorneys present through video included Attorneys Joe Voiland, Mike Edminster and John Pfleiderer representing Scott and Cindy Schara. The defense, represented by numerous attorneys included Attorney Randall Guse representing Gavin Shokar, M.D., David Beck, M.D. and Karl Baum, M.D., Attorney Aaron Birnbaum representing Daniel Leonard, M.D., Attorney Jason Poje representing Ramana Marada, M.D., Attorney Jason Franckowiak representing Hollee McInnis, R.N. and Alison Barkholtz, R.N., as well as Ascension Health and Attorney Jeremy Gill representing Wisconsin Injured Patient and Family Compensation Fund. Judge Mark McGinnis allowed all the attorneys to be present by video, however this reporter found it to be VERY unprofessional and disrespectful to the judge when Attorney Jason Poje appeared in a room with an unmade bed in the background.
A crowd of 50+ supporters, some with signs, gathered on the courthouse lawn prior to the hearing to pray. Three young ladies, Elayna, Alise and Christy Uhl drove from Mukwonago, Wisconsin to be there and sang a cappella in three part harmony "Nearer My God To Thee" and "Amazing Grace." These young ladies have absolutely GORGEOUS voices! THANK YOU ladies for being there and sharing your beautiful songs! I had the pleasure of meeting people who drove quite a distance to be at the hearing. Nicole Riggs drove all the way from near the Twin Cities of Minnesota. She shared with me how her dad, Ralph Marden Jr., was murdered by a hospital on September 7, 2021 with the use of numerous drugs including Remdesivir ("Run! Death Is Near"), Propathol, Fentanyl, Dilaudid and Lorazepam. They also put him on a ventilator. While they did all their "dirty work," they denied the family the interventions of antibodies and vitamins. Ralph died after 16 days in the hospital. Nicole researched all of this and found on CMS.gov, the hospital received a 20% bonus pay which they called "Add On Payments" because her dad was on Medicare.
There is currently a group that Nicole started with about 40 people who have an attorney and are starting a lawsuit as well for the loss of their loved ones. Again, Grace is helping people fight against this evil!
Amy Hartwig from Eagle River, Wisconsin, has a son who works at Camp Daniel, a camp for people of all ages with disabilities. After Amy heard and read about Grace's story and the hearing, the Lord brought her to be with us on that Friday to show her support. She hears all the successful things going on at the camp and the happiness it brings to disabled people. She ponders WHY our medical community would want to murder those loving, happy people!
Amara Kertesz-Roatch shared with me how her husband, Douglas Roatch was murdered at Bellin Hospital in Green Bay, Wisconsin, on October 10, 2021, just three days before Grace's murder. Douglas was also put on Remdesivir and Lorazepam and numerous other drugs as well as the ventilator. Story, after story, after story of this EVIL murdering of people and all at the hands of our "medical community." WAKE UP people! This is NOT the end of these horror stories, they're planning another plandemic!
I had the honor of being invited to a meeting of Fox Valley Initiative in Appleton, where Scott and Cindy Schara spoke. (I must give a thank you to our dear Christian warrior friends Dave and Barb Kempen, for the invitation and ALL of their efforts to help stop this evil.) Cindy opened the gathering by sharing very personal details of who Grace was with all those in attendance. I sat down with Cindy to hear, once again, about the young lady we love (for those who were privileged to know her prior to her death) and have come to love (for those who have come to know her since her death through her loving "earthly mom and dad" — as Grace called them on a regular basis and her loving sister, Jessica). Grace was joy and the love she showed on a daily basis, not only to her family but also her extended family and friends can't even be described.
Cindy shared how blessed she is to have taken all kinds of videos and pictures of her kids. When you have two children that have gone home to be with the Lord, you cherish each and every memory you have. People who never knew the Schara family prior to this have come to know the Lord through Grace and this family's faith and courage in the Lord. What a fabulous testimony to have!
In a homeschool paper Grace wrote, she took her name and gave a description of herself: "G - Generous, R - Responsible, Respectful, A - Amazing Grace (YES she WAS AMAZING and that title has carried through to her website and deservedly so!), C - Caring, Courageous, E - Elvis Presley" — Grace LOVED Elvis! She met Priscilla Presley at the age of 14, the very same age of Priscilla when she met Elvis. Grace could pull out trivia about Elvis at any time which would wow and entertain those around her. She had all the special dates about Elvis memorized and would remind her "earthly mom and dad" of those. "S - She always used her last initial which stood for 'Strong.'" Grace was never arrogant about herself, but instead showed the love of the Lord to all those around her, whether she knew the person or not, GOD was her EVERYTHING!
Grace put together a booklet in 2019 with all her beautiful writings (something she loved to do). Her author page was very unique as she again gave credit to other people and things in her life that brought out who she was. She wrote: "Grace Schara is a new author and enjoys writing about things happening in her life, especially if Elvis is involved. Grace is 17 1/2 years old and lives in Freedom, Wisconsin with her parents, Scott and Cindy. Grace has Down Syndrome but that doesn't stop her. She enjoys playing violin, dancing hip-hop, riding horse, speaking Spanish and playing with her fun loving nephews, Caleb and Riley. She's quite the actor and recently performed in the musical 'Leaving Iowa' where she dressed up like Elvis." (When Grace was in a play, the directors were gracious to make sure they weaved Elvis into it in some manner — what a sweet and loving gesture!) "One of the plays Grace was in involved her dressing up as 'Janet the Mechanic' who had a love for Elvis. Grace stepped off stage out of the view of the camera where she took off her mechanic's suit and under that was an Elvis costume. She came back on stage doing her Elvis impersonation shaking her hips and doing her famous lip curl. Her mom also shared, when in dance recitals, Grace would add a bit of flair blowing a kiss and doing a little side-kick as she left the stage). She enjoys riding her bike and hunting with her dad. She has two playful cats named Cruise and Tonianna who is called Toni for short because her brother called her Toni. Grace lost her big, handsome brother to suicide, she misses him terribly. She has an older sister, Jessica and a brother-in-law Adam. But the best part about Grace is her sense of humor which you see in her writing. If you ever get a chance to meet her, ask her to tell you a joke or two."
Grace had a good friend, Hendrik and he also told Scott and Cindy about the extra love chromosome that he and Grace shared; an unconditional love that many others do not have. Grace saw the very best in people and encouraged them along the way. Cindy spoke about the emptiness deep within, as Grace was with her mom 24/7, "riding in the car will never be the same. Grace always had an Elvis CD playing and in the last month she only wanted to play Elvis' gospel music." Cindy and I believe Grace may have sensed the Lord had plans for her in heaven, that being the reason she only wanted to listen to gospel music. It was a comfort to her.
Grace loved babies and with the murder of millions of our preborn children, Grace certainly has her hands full helping her Lord with them! Cindy asked Grace a few years back what she thought heaven was like, sharing how the Bible states heaven has many rooms and the Lord goes to prepare a place for us. Grace told her mom how heaven has individual rooms for everyone's enjoyment. A sewing room, an animal room, a gardening room for her Aunt Mary, an exercise room for her brother Travis, a snowboarding room for her sister Jessica, a sledding room, a craft room, a coloring room (which Grace is probably in on a regular basis as she LOVED to color). Grace would put together Loom-band bracelets and necklaces with many colors; colors you wouldn't imagine would work together but did. She would always make one for her dad with a little grey in it so it would match the color of his hair. Encouragingly, she'd say grey was the color of wisdom and the crown of glory. As Cindy looks at the beautiful sunsets in the evening she asks the Lord if Grace helped put together the colors of it as she recalls the pictures she would color and how beautiful they were!
Grace was NEVER a burden to Scott and Cindy. She was LOVE, JOY, OPTIMISM and a TRUE BLESSING from the Lord. Each and every day was filled with excitement as Cindy took her to violin lessons, dance, horseback riding therapy and homeschool events. Cindy recalls how Nate, a VERY SPECIAL friend of Grace's from a family with children who have special needs LOVED Grace and would look forward to seeing her each and every week. Now he's lost without her here and struggling. He asks "Why would they do what they did to Grace?" People from South Korea, Guatemala, Australia and New Zealand are signing up on GraceSchara.com to stay in touch and learn about the murder of Grace, what an awesome outpouring of love!
For those of you reading this who never had the privilege of meeting Grace or her "earthly mom and dad," Scott and Cindy, or her loving sister Jessica, I shared WHY we ALL feel so passionate about this lawsuit and the justice that NEEDS to be served. The donations received by the Scharas as well as any potential compensation coming out of this lawsuit, will NOT be used for their profit. It is going toward educating the public and will help those who have also shared in this HORRIBLE evil called murder by the "medical communities" and their lawsuits.
Leading up to the courtroom hearing on Friday, July 14, 2023, the Scharas filed the Request for Mediation, with the Director of State Courts on March 30, 2023. This was a required step, before the civil case could proceed, by State statute. In the interim, they filed their lawsuit on April 11, 2023 and received the required responses by May 15, 2023. The Marada Partial Motion to Dismiss was the item that generated the hearing on July 14, 2023. The Director never scheduled the mediation within the required 90-day window, which allowed the civil case to proceed. That hoop expired on June 28, 2023, which allowed the judge to schedule the hearing. Scott, Cindy and Jessica are thankful it was scheduled so soon afterwards. Justice should not take a long time. I will use Scott's analogy as I feel it is spot on; "When a person shoots another on the street, he is locked up until the court date. When a medical person kills someone, because of 'malpractice,' she keeps doing the same thing to other people because 'justice' has a ball and chain relative to prosecuting medical people — the legal system has multiple roadblocks to justice, not the least is the attitude of our legislature."
Scott had said, "The essence of the defense's motion is to make this case about malpractice, in order to limit liability. The defense also wanted the judge to dismiss the Scharas' request for declaratory judgment regarding the illegal Do Not Resuscitate (DNR) order. This case is much larger than malpractice. It is first about the lack of informed consent (a battery) leading to malpractice, which led to Grace's wrongful death."
Another of Scott's analogies is the Chicken/egg: The Scharas' case arises out of lack of informed consent. If Scott, Cindy and Jessica would have had informed consent, medical negligence would not have taken place, and Grace would be with them today. Therefore, the basis of the defense's motion isn't valid. It is secondly about protecting the public from doctors unilaterally placing Do Not Resuscitate orders on patients. The doctor's regulatory agency in Wisconsin, the Department of Safety and Professional Services, wrote on December 5, 2022, that the Wisconsin DNR statute 'does not apply to physicians operating in a hospital, non-emergency room setting such as the one in question.' WHAT? SERIOUSLY? 'Does not APPLY to physicians operating in a HOSPITAL....' A hospital, the place you go to receive 'care' so you can LIVE and they can put a DNR on you without YOUR or YOUR FAMILY'S consent? 'A non-emergency room setting...' WHAT DOES IT MATTER if it was an emergency or NOT? Does the oath 'DO NO HARM' mean ANYTHING to 'doctors' (and 'nurses')? Again, as I stated in my previous article, this is SO STUPID, you CAN'T make this stuff up!
Interestingly, the defense isn't bashful about their motive. In their brief, they wrote, "The Legislature's purpose in enacting a statutory scheme is to govern claims for damages arising out of alleged medical negligence was to encourage health care providers to remain in Wisconsin by imposing certain limits on the causes of action that a patient or her family member can pursue, and on the types and amount of damages that can be recovered." FYI, the word 'scheme' fits like a glove. As I type this, I have to shudder at the thought of doctors and nurses getting away with doing whatever they want based on those appalling and ridiculous words! They MURDER your loved one and that's their defense?! HOW can ANY amount of money or recourse EVER bring back what you lost when that loved one died? If this happened to THEIR loved one, would THEY say the same thing?
Think about this statement of motive — "we need to limit liability for doctors, or they won't come to our State" — is the basis for a law targeting the citizens impacted by medical malfeasance. Do good doctors need liability protection? This game has been implemented by the "health care" lobby to facilitate the culture of death. How has The National Childhood Vaccine Injury Act of 1986, eliminating liability for vaccine manufacturers, worked out? Ask someone with autism if you are wondering. How about someone who died suddenly of the newly invented Sudden Adult Death Syndrome, as the result of taking the "vaccine" that was going to be our savior? God's economy has consequences for choices. When consequences are removed, by law, the effects are catastrophic.
Regarding the illegal DNR, Attorney Poje stated there's disputed facts between the parties regarding the declaratory judgment regarding the illegal Do Not Resuscitate order in this lawsuit, accordingly, the judge did not grant their motion to dismiss this element in the lawsuit which is another VICTORY! To my disbelief as I read it, in their brief, they wrote "the DNR order should be dismissed because a) the issue is not ripe for adjudication and/or b) the issue is moot, because Grace Schara, the subject of the order, is deceased." EVERY single person who is still breathing would be impacted by this! Grace is dead, in part, BECAUSE they placed an illegal DNR on her, and continuing to let this happen in our "medical facilities" will affect each and EVERYONE of us, INCLUDING the defense!
Adding another analogy: If you have a gun, but it is not loaded, can you kill the person with the gun? Doctors and nurses start with a gun, every single day. They load the gun by ignoring informed consent. They pull the trigger by following protocols, either on purpose, or by not thinking. If they followed the responsibility that comes with informed consent, they could never load the gun.
On July 14, Judge Mark McGinnis set the date for a three-week jury trial beginning November 4, 2024. This is HUGE; it absolutely means the lawsuit is moving forward for the Schara family and everyone they are fighting for and the defense lost their request to dismiss all or in part. We ALL need to pray the jury will be put in place by the Lord and the jurors will see that justice is done by the will of the Lord! The timing is interesting, given the election. It begins the day before the election, which means this lawsuit will be on the minds of many voters who are sick of how this country is run and the injustices we all face each and every day!
I was speaking with a friend of ours and he was discussing what happened to Grace with another person. That person was sickened by all of this and told our friend how he treats animals much better than the way Grace was treated. He went on to tell him about an animal that was in trouble and how he helped resuscitate that animal and it is alive to this day due to his efforts. He continued to say how every effort should have been made to save Grace! Folks, PLEASE remember when you go to the polls on Election Day WHO stands with the Lord and FOR life and WHO stands with the devil and his demons against life, not only in this EXACT lawsuit, but also in regard to the MURDER of our pre-born! The wrath of our Lord will be tremendous upon a nation that turns against Him!