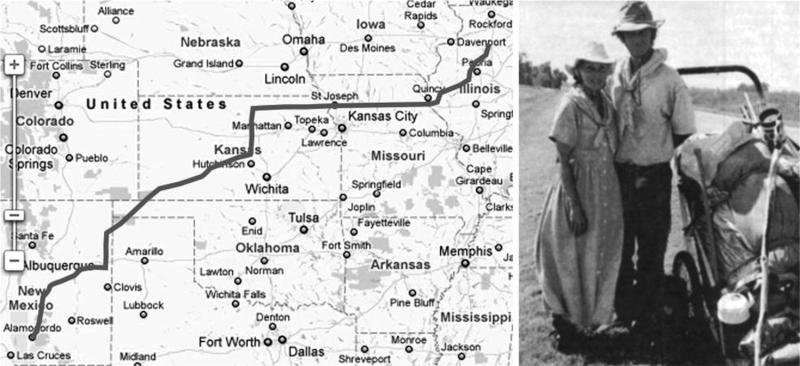 Complimentary Story
September 2023
We had just finished another long stretch of walking and had covered almost 100 miles in the past ten days. We needed a good place to rest for the weekend and the quiet little town we were in had a park at the edge of town that looked like a great place to rest. The weekend was filled with wonderful blessings of fellowship, great food, and the first real opportunity we have had to help someone in spiritual need.
Two men came to say hello and asked if they could visit for a while. We invited them over and immediately realized one of them was drunk. Tom is an alcoholic and Chuck is a young friend who is trying, in his own way, to help him. They stayed until around 5:00 PM. Harry was able to talk to Tom about the Lord and prayed with him before he and Chuck left.
Shortly after Tom and Chuck pulled away, a county sheriff's car pulled up. Our first thought was, "The police saw us talking to these men and they are going to question us." We have a tendency to jump to wild conclusions. The friendly officer was checking to see if we were in need of anything or having trouble of some kind and also asked how long we planned to stay. It seems they have a one-night stay limit. We explained what we are doing and that we were hoping to rest until Monday morning. The officer was understanding and told us they won't enforce the one night stay and to enjoy ourselves while we are here. Another one of God's huge blessings that are provided when we have a need!
The police officer hadn't been gone very long when Chuck returned to invite us to his home for supper tomorrow evening. We explained that we couldn't leave our tent so he decided he would bring his family here for a cookout. Chuck was barely gone when Tom came strolling in. He had sobered up slightly and needed someone to talk to. He stayed until 10:30 PM and then asked Harry to help him get home, which he did. This gentleman is a very sad case. We are praying the Lord will get hold of his heart and turn his life around.
The next morning was quiet and we were able to get some much needed rest. Tom was back again, almost completely sober this time. This afternoon, Tom brought his father by for a visit. During the course of the conversation, Tom told us he is going to try and dry out. We are trying to offer him as much encouragement and support as we can in the short time we have.
Chuck and his wife, Ann, their two little boys, and a friend came this evening. They brought steak strips in sauce with onions, noodles, salads, and all kinds of foodstuff. We had a wonderful meal! We were able to share with them how God has taken care of us on our walk. These energetic young people are very friendly and impressed with what we are doing and how God provides for us. Tom was back again, this time bringing his sister Shelly, who seems very nice. We spent an enjoyable evening getting acquainted with all these new friends.
Earlier today, during one of their conversations, Tom told Harry he thought God had sent us here for him; that he needed Harry. We hope something of what Harry told him sinks in and he turns his life over to Jesus.
Shortly after noon, Tom and his sister came by. They brought a big lunch and a wonderful apple pie their Mother made. Hadassah got a better chance to visit with Shelly, who has a great deal of faith and loves the Lord. Shelly lives a distance away and is visiting here. Hadassah liked her very much and was blessed by the time they spent together.
A little later, Ann and her friend, Tammy, came by. Ann said we had really opened her eyes. She didn't believe a lot of the things that are in the Bible but hearing our experiences made her realize those things are true. She said she is going to talk to her priest and go back to church. It had suddenly struck her that she was used to provide something we really needed, a good nourishing meal. When she realized she had become one of the people that God has been using to provide our needs she was really impressed and the truths that are in the Bible took on a whole new meaning for her. We had never really talked to her one on one, but she was there, listening to what we had to say in our conversations with others while we were eating last night.
Praise God, our lives do make a difference! Do not ever think that the life you live does not affect other people. It may be for the good or it may be for the bad. It all depends on your actions when you think no one is watching! What we say can be taken with a grain of salt. Our actions tell people who we really are.
The next morning, we finally left the park. We had only walked a couple of miles when Tom and his Dad pulled up. His Dad gave us $10.00, wished us well, and thanked us for trying to help Tom. We, in turn, thanked him for all they did for us. They had provided us with several meals of much needed nourishing food and fellowship.
"And I have been with thee whithersoever thou hast walked, and have cut off all thine enemies from before thee..."
(I Chronicles 17:8 KJV).
Contact:
Harry@Virtually-Forever.com